Do you want to be a Nurse Entrepreneur?
Maybe you're wondering what else you can do with a nursing degree. If so, you're certainly not alone. Many nurses are looking for innovative ways to express their nursing practice in non-traditional roles.


Are you:
Unfulfilled in your current nursing role?

Unable to continue in the practice of nursing?

Curious about what else you can do with your nursing degree?

Determined to start a venture of your very own?

Unsure about what product or service to offer?

Looking for a business model that will allow you to work from home?

Eager to join the ranks of nurses who support each other in their businesses?
---
Taught by a registered Nurse Entrepreneur, "CHANGE OF SHIFT: From Clinical Career to Nurse Entrepreneur" will move you from vague aspirations to the development of a product or service with an actionable launch plan.
---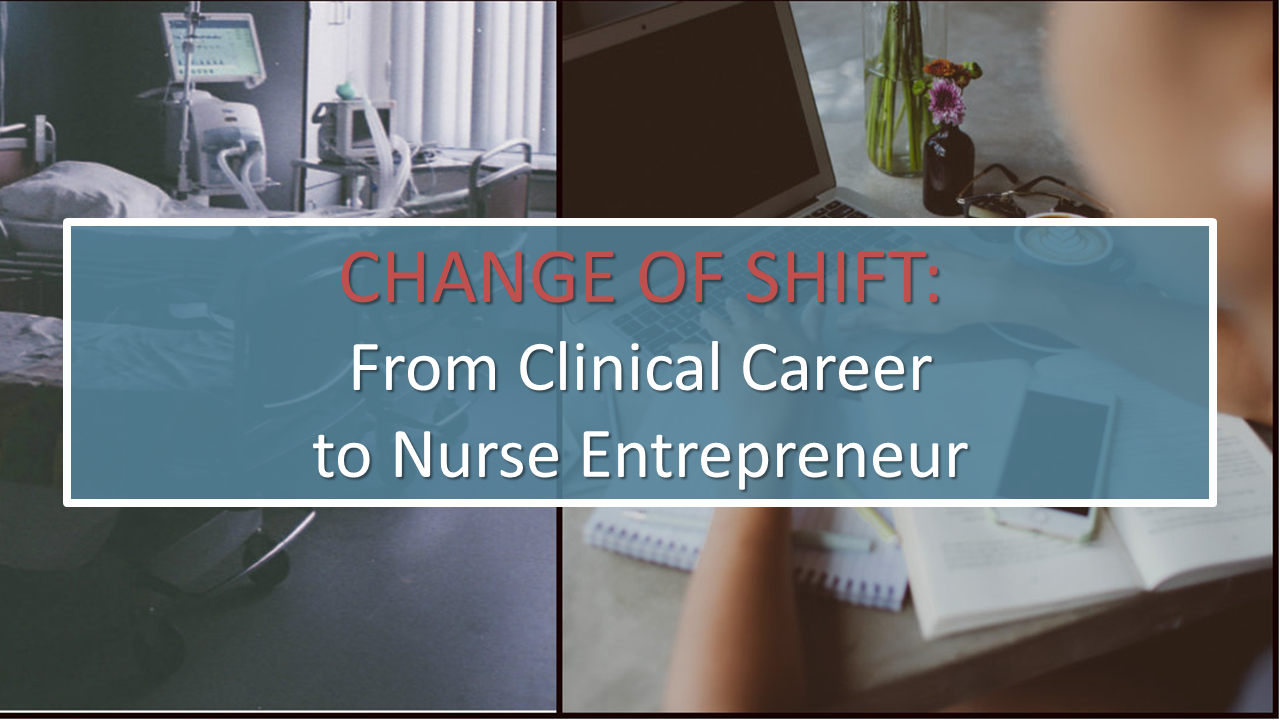 You've been wondering how you can use your nursing degree in business… why not start today?
And I'm not talking about starting a business that requires wooden conference tables, huge sums of money, or complicated legal structures.
Rather, as a nurse entrepreneur, you can create a non-traditional practice that allows you to work from home in a venture of your own choosing, serving the needs of those you want to serve, with a product or service that is uniquely your own.
Who Should Take This Course?
Aspiring nurse entrepreneurs who:
Are unsure where to start


Have vague, or no product or service ideas

Need help developing a viable product or service

Struggle to find and effectively communicate with their ideal client

Aren't sure how to accurately price their product or service for profit

Want a little extra guidance from concept to launch of their new venture
In This Course You Will:
Dig deep into your interests, skills, knowledge, and passions to uncover a business that is a reflection of you, while meeting the needs of your clients or customers.


Validate your product or service idea to ensure an existing demand from clients eager to pay you.


Clearly define your offering's features and benefits so that your audience will immediately recognize it as the solution they're looking for.


Learn how to rise above the competition in a crowded market.


Identify your audience with precision, learning where they are and how to speak their language.


Learn how to price your product or service the right way.


Discover how to close the gaps between start-up and growing your business



Write your actionable launch plan
What's Included in This Course:
7 Learning Modules consisting of videos, narrated slide presentations, and handouts
A Workbook for Each Module to flesh out your ideas and bring them to life
My List of "20 of the Best Online Businesses for Nurses"
Don't waste any time... get started today!